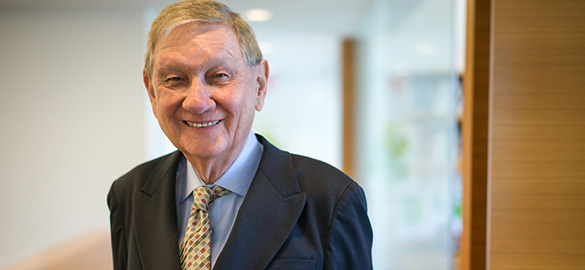 In memoriam: Milton Stern
Milt died in 2015. A principled man who sought the truth and constantly challenged others to be their best, Milt was highly respected by his clients, colleagues and peers alike. One of his great joys was building Bridgewater — his imprint is everywhere. He left behind a firm that is strong, intellectually deep and committed to the sole principle of "doing the right thing" for clients.

In 2016 the CFP Board Center for Financial Planning – along with Milt's family and his colleagues here at Bridgewater – created the Milton Stern Scholars Fund in honor of Milt's life and to continue the legacy of his unwavering commitment to independent financial advisory work. The Milton Stern Scholars Fund will provide financial assistance to individuals who wish to pursue the CFP® designation. Scholarship recipients will be chosen based on financial need as well as demonstrated academic excellence and a commitment to the field of financial planning.

We are pleased and proud that the MSSF aims to extend an opportunity to those who wish to follow their dreams as Milt did. If you would like to learn more, please visit the Milton Stern Scholars Fund webpage on the CFP Board Center for Financial Planning by clicking here.